Check Out Our Gallery
Custom illuminated signs, monument signs, channel letter signs, neon signs, dimensional letter signs, large-format digital signs, office signs and more.
National Sign Accounts
We provide sign installation, survey work, permitting and maintenance services to national sign companies.
Custom Sign Fabrication
We fabricate custom signs for companies in Ventura, Santa Barbara, and Los Angeles Counties; and Nationwide.
At Dave's Signs, we've built our reputation on producing high-quality signs. Whether you need a simple banner or large-scale architectural signs, we're highly trained and experienced in professional sign fabrication.
If you're a business that needs signs made for one or more location or a national sign company that needs signs made and installed locally; or even nationwide.
Let Dave's Signs create affordable and beautiful signs for your business.
---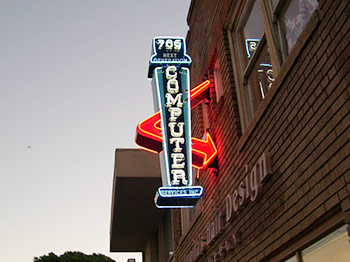 We Make Beautiful Neon Signs in Our On-Site Facility
Dave's Signs has perfected the art of neon signs. We can handle all sizes of neon signage, from the small intricate signs to the eye-catching, large neon signs. Ask us for a personalized quote or contact us for any questions you may have about neon signage.
---
Dave's Signs Makes Custom Office Signs
Whether you need a lobby sign, directional signage or ADA signs, Dave's Signs can help you with all your office sign needs. We can use your logo and create a beautiful, distinctive sign for your office. We can also create custom building directory signs, suite signs, and directional signs to give the building a unique unified theme. Call us today to help you with all your office sign needs.
---