Gas Stations Signs – The Importance of Visibility
The fuel industry is one of the most competitive businesses today, and that's why so many fuel stations offer a wide range of products and services. However, you may not get as many customers as you like if they don't notice your signs. In fact, when it comes to gas station signs, visibility may be the most important factor to consider. Here is why "being seen" is vital to your gasoline business.
Remove All Doubt
Nothing is more frustrating than trying to find a service station when you need one. Your business needs "first-time" customers because that is where regular customers come from. You can have the address and location on GPS, but this doesn't always tell the whole story. When there is some doubt as to the location of a service station, your gas station signs can remove that doubt and show the way. But they can't be effective unless they have maximum visibility, like the towering sign at the Conserv Fuel location. There is no way that anyone driving in the area is going to miss this sign.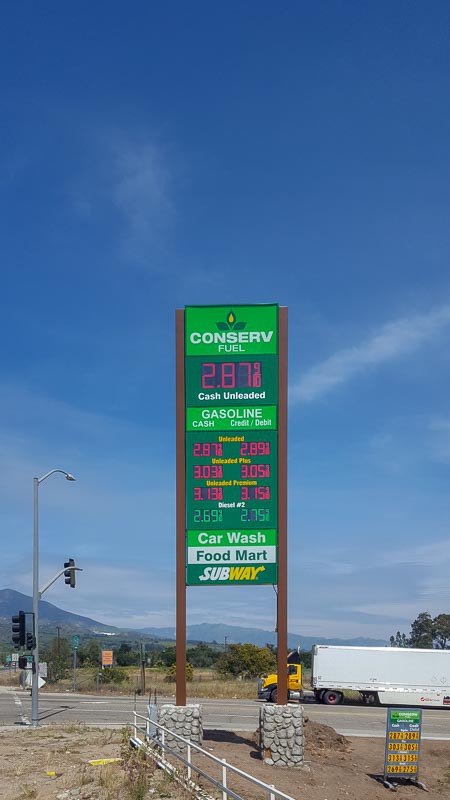 Sell Your Wares
Most fuel stations sell food and other services these days, but it's important to let everyone know. It's a good idea to let hungry customers know you run a food market and a Subway sandwich shop. If they are not sure which service station to frequent, these options can clinch the deal in your favor.

The Value of First Impressions
When your signs are well-kept and looking good, it's a direct reflection on your business. Visibility is not worth much if it doesn't leave a lasting positive impression. Dave's Signs offers complete gas station signs services from the design process to manufacturing, to installation, to maintenance. Give us a call soon at (805) 641-1387 to check out what we can do for you; or reach out to us online.