10 Ideas for Outdoor Lighted Business Signs
Outdoor lighted business signs are an effective way to attract customers and stand out on the street. Whether you're looking for a permanent sign or want something that can be easily changed when new tenants move in, there are plenty of options to choose from when it comes to choosing the right sign for your business or location.
Lighted commercial business signs offer a range of creative possibilities to draw attention and communicate with customers after dark.
What are the 10 Popular Types of Outdoor Light-Up Signs?
Did you know that there are many different types of outdoor lighted signs for your business? There are.
Lighted signs for business can be a great way to improve visibility, which is essential if you want potential customers to come in. Here we discuss the varieties of exterior illuminated signs and what they are best used for.
From classic neon lights, lightbox signs to creative halo-lit channel letters, these ten ideas for outdoor lighted business signs will help you create a memorable first impression with potential customers.
1) Outdoor LED Signs – Eric Ericsson's Fish Co.
If you've been searching online for "Outdoor LED Signs near me," we've got you covered. For example, Outdoor LED Signs like the one used at the Deck for Eric Ericsson's Fish Co. are prevalent and can be used for many different purposes.
These types of signs can be made in various shapes and sizes and utilize LED bulbs, making them perfect for outdoor signage. They also increase customer curiosity with eye-catching illumination, with everyone wanting to know more about you. Plus, it's 24/7 advertising for your business.
2) Illuminated Blade Signs – Midici Wood-Fired Pizza
Illuminated Blade Signs are impressive and elegant. Outdoor commercial signs like this cabinet-styled Blade Sign we created for the outside of Midici's can really put your restaurant on the map. Custom shapes, sizes, and colors, the possibilities with these types of functional, cute outdoor signs are endless. If you need your business name to stand out and capture a particular essence, you can create it with this kind of exterior illuminated sign.
3) Monument Signs – Star of CA
Good for the hospitality and property management industry, a lighted Monument Sign works well for businesses that have multiple locations or if there are multiple buildings in an office park. They direct customers where they need to go by simply pointing them in the right direction.
Sometimes you want to make a big statement with commercial outdoor signs like this Star of CA sign does. These type of free standing business signs can be seen from the freeway and really stands out.
You can also attract customers at night with standalone business road signs like this GANAS Pole Sign in Oxnard. Really – it can literally be seen by drivers and passengers that are miles away!
4) Outdoor Neon Signs – Toppers Pizza
Dazzling and beautiful, Neon Restaurant Signs elevate you and set your business apart from the rest.
Take a look at the gorgeous neon adorning the outside of Toppers Pizza in the Channel Islands Harbor. The vintage neon makes its presence known. How could you resist going inside?
Neon signs have a beautiful glow and can come in just about any color you want. Believe it or not, they are actually pretty energy efficient and long-lasting. And being that the technology is over 100 years old, they will never go out of style.
5) Custom Illuminated Shop Front Signs – Toxic
Just like restaurant signs, Custom Neon Storefront Signs  are a great way to add a unique, eye-catching style to your business. Whether you want to attract customers with a bright, bold design or create a vintage atmosphere, custom neon storefront signs offer unlimited design possibilities to give your business an edge over the competition.
Just look at this sign we did for Toxic – electrifying!
6) Halo-lit Channel Letter Signs – Fluid State
No off-the-shelf sign will make your brand stand out better than a custom-made Halo-Lit Channel Letter Sign. 
Check out the sign we did for Fluid State. They're located in a historic bank building in downtown Ventura. They wanted something unique to grab attention, so we wrapped the sign around the corner of the building and lit it up with LED lights.
Since the building is on a corner, the sign can be seen around the block. However, if you are passing by up close, you'll want to go around the restaurant to see the whole sign. Now that's getting attention!
Note that the commercial business signs cost for illuminated signs can fit in your budget, too, with prices depending on the size of the sign you choose and the lighting method.
7) Front-lit Channel Letters – Regency Theatres
Are you looking for a highly visible and well-proven sign that will grab people and draw them into your business when they pass by? If so, look no further than Front-Lit Channel Letter Signs. You can't go wrong.
These types of signs have been created for every business imaginable. From shopping malls, grocery stores, hotels, restaurants, and movie theaters – like this one we did for Regency Theatres in Agoura Hills – you can almost smell the popcorn inside!
These signs are durable, energy-efficient, and will stand the test of time.
A well-designed and installed front-lit channel letter sign can give your business a professional and polished appearance, which can help to attract customers and improve brand image – making it a worthwhile investment.
8) Custom LED Logo Sign – Pandora
Custom signs like LED Logo Signs are great for every industry. Companies use them outside their store, on monument signs, pole signs, and more. The best thing about these signs is the quality of the lighting – they're beautiful. 
We can make Channel Letter Signs in several styles, such as front-lit (the most common), halo-lit, front/back-lit, and open-face-lit channel letters.
Our top pick here is a glowing Halo-Lit Channel Letter sign using LED lighting that we did for the jewelry retailer Pandora.
9) Externally Lit 3D Acrylic Sign – ACH Mechanical Contractors, Inc.
Small businesses don't always have the budget for fancy channel letter signs. 3D Signs or Dimensional Letter signs look fantastic and professional without the higher cost.
The good news is that they can be lit up with external lighting, as we did for ACH Mechanical Contractors, Inc. We designed this acrylic 3D sign for ACH and mounted it to the wall on the outside of the building. We lit it up using classic barn lighting. It looks great on the brick and can be seen by anyone driving by at night.
10) Custom Marquee Lighted Signs – Garry Marshall Theatre
If you're looking for a way to add character to your business or want your message to be seen by all, then consider getting a Marquee Sign.
A Marquee Sign like this one for the Garry Marshall Theatre is a great way to evoke the timeless charm of old Hollywood while also getting people's attention. Plus, it's low maintenance and energy efficient.
Types of Businesses that Use Marquee Signs:
Retail Stores
Restaurants & Bars
Entertainment Venues
Medical Offices & Clinics
Schools & Universities
Churches & Religious Organizations
Hotels & Resorts
Financial Institutions
Automotive Dealerships
No matter the setting, adding a Marquee Sign can bring life to any business. 
11) Illuminated Cabinet Signs or Lightbox Signs
Wait, there's one more! Let's not forget the ever-popular and budget-friendly Cabinet or Lightbox Sign.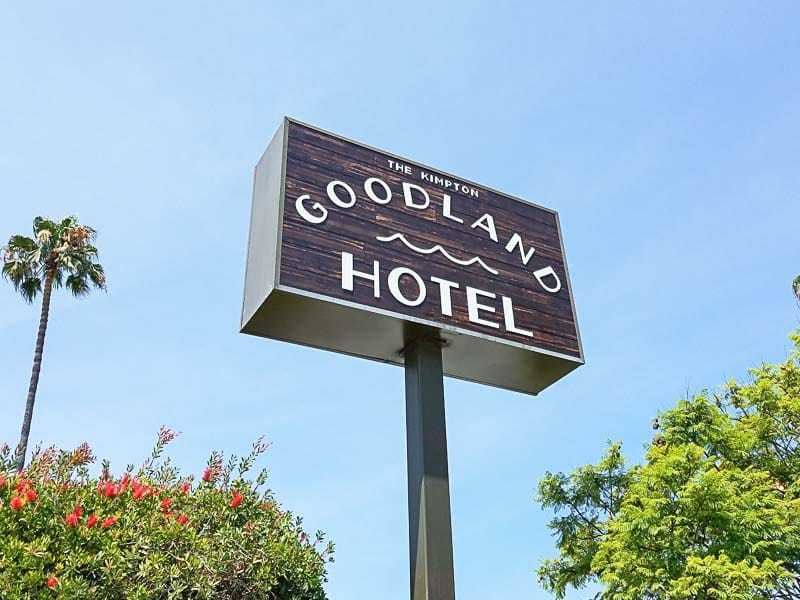 Lightbox Signs or Cabinet Signs are illuminated signs that typically use fluorescent or LED lamps to provide a bright and eye-catching display. Lightbox Signs are typically found in storefronts, retail spaces, hotels, and just about every gas station. They are usually made from an aluminum frame with a translucent graphic face to make the design visible from both sides.
Monument signs like the one below are similar free standing business signs that function the same way as cabinet and lightbox signs. They can be lit up with LEDS, neon or barn lighting to give your brand some serious mojo.   
Benefits include:
High Visibility: Lightbox Signs are highly visible due to their bright display, making them ideal for drawing attention to your business.
Customization Options: Lightbox Signs can be custom designed to fit any space or message and come in a variety of shapes and sizes.
Durability: Lightbox Signs are weather resistant and have a long lifespan, making them a great investment for businesses wanting to get maximum value out of their signage.
Another nice thing about Lightbox Signs is that if a tenant moves out, the cost to update the sign for the new occupant is minimal since you are only changing the face.
Get Noticed with Custom Illuminated Signs
Dave's Signs has a wide range of illuminated signs that will help you stand out in any environment. Whether it's an eye-catching neon sign to draw attention or a classic marquee sign for your theatre, our team can help you create the perfect custom signage solution for your business. Our experts specialize in creating striking illuminated signs explicitly designed for your company that can help you stand out and gain the attention you deserve.
The Benefits of Using Lighted Business Signs versus Standard Unlit Signs
It goes without saying, lighted business signs are 24/7 advertising for your business. Unlit signs cannot compete. Even though non-illuminated signs may look great during the day, studies have shown that illuminated signs draw attention more quickly and resonate in people's minds longer than non-illuminated designs.
Whether you choose a super sophisticated sign with a custom design using multiple lighting technologies or a simple dimensional letter sign with external lighting. We recommend you build your brand recognition by creating an eye-catching and more memorable customer experience that a lighted business sign provides.
We Serve Ventura, Santa Barbara, and Los Angeles Counties and Ship Nationwide
As the premier provider of lighted business signage, Dave's Signs proudly serves businesses across Ventura, Santa Barbara, and Los Angeles counties. Our superior-quality signs are available for local installation and can be shipped nationwide. However, if you have a big enough job, we will come to your location nationwide.
We are proud to provide our clients with outstanding services that cover every step of their illuminated business signage needs. From design, permitting, fabrication through installation and maintenance, we ensure that your signs look their best!
Contact Dave's Signs with Your Questions about Outdoor Lighted Business Signs
Who makes business lighted signs that command attention? Dave's Signs! Here, we specialize in every type of illuminated sign and help clients ranging from small mom-and-pop operations to corporate clients with locations nationwide.
Since 1992 we have been helping storefronts, small businesses, shopping malls, restaurants, property managers, apartment complexes, business parks, hotels, hospitals, residential communities, corporate offices – you name it, we've done it.
Have questions about lighting up your business or organization, call us at ‭(805) 641-1387‬. We're always happy to help. In addition, you can contact us for a free quote online.