Office Lobby Signs are the Secret to a Lasting First Impression
Are you looking for a new and creative way to market your business? If you are, corporate office lobby signs drive home your brand message and get noticed by customers. You can check out some of these excellent custom business signs we've made over the years in our office signs gallery.
At Dave's Signs, we create eye-catching and custom lobby signs for Ventura, Santa Barbara, Los Angeles, and businesses Nationwide.
Our experts will work with you to build office signs that best represent your brand.
But first, what makes an office sign different than, say, a retail sign or a restaurant sign? Let's take a look.
What is an Office Lobby Sign?
A typical office consists of a lobby, reception area, and waiting rooms. Additionally, these are all high-traffic opportunities for custom corporate lobby displays. For instance, reception signs like the interior sign below are placed prominently in these areas for maximum impact.
Your lobby sign should reflect the values and professionalism of your company. No matter what size or style you choose, your office lobby sign should be easy to read and send a clear message about your business.
Businesses that use Lobby Signs
Almost any type of business can benefit from custom office lobby signs.
For instance, lawyers, accountants, and other professional service providers use indoor signage to communicate trust and credibility to clients. Customers entering and doing interior office signs reading won't forget the lovely wooden sign and brand for Derby/Curtis, LLP anytime soon.
Dave's Signs installed the font on the wooden facade for Derby/Curtis LLP. There are scores of mounting options and materials that our professional installers can use for your sign project.
Healthcare facilities use this type of signage to direct patients and visitors to where they need to go. Additionally, businesses of all types use them to promote their brand and forge a professional image.
Types of Custom Lobby Signs
There are many different types of office lobby signs to choose from, but sometimes it's good to stray away from traditional custom lobby signs you see everywhere to convey your unique message. The sign you choose will depend on the look you want to achieve, the message you want to communicate, and your budget.
Here are some of the most popular types of custom lobby signs:
Dimensional Letters – Thick Acrylic Lobby Letters & Logos
Illuminated Signs – Backlit Signs, Channel Letters, Neon, LED & Externally Lit Signs
Flat Panel Signs – Both Acrylic Signs and Metal Plaques – Brushed Finish, Smooth or Clear
Custom Printed Wall Graphics & Cut Vinyl Letter Signs
Cut Metal Letters & Logos – Stainless Steel or Aluminum
Metal Laminates – Acrylic Laminates or a Combination
Way-Finding Signs – Directional or Directory Signs
Lobby Door Signs – Window Graphics & Plaques
Foyer Area Graphics – Frosted Window Graphics
Sandblasted Wood Lobby Signs
Handpainted Lobby Signs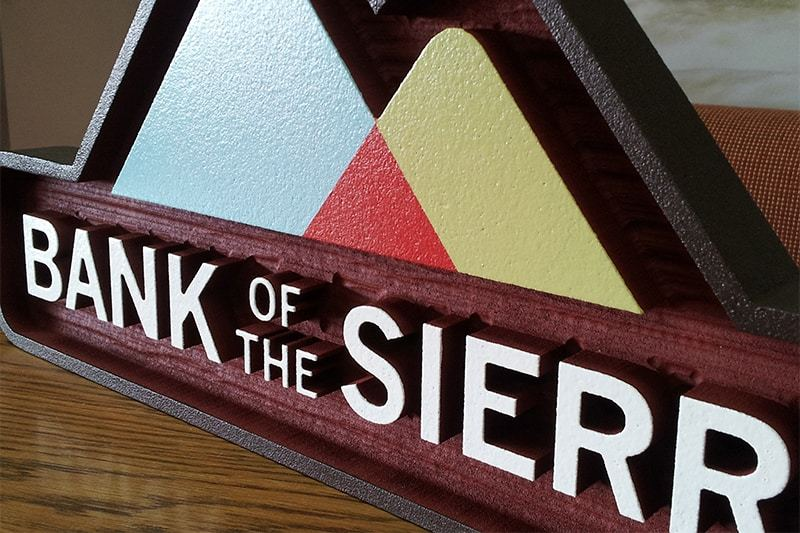 Materials for Lobby Signs
Different materials produce design styles that give your office space the stellar first impression you're looking for. They include high-quality materials, such as acrylic, metal, aluminum, stainless steel and wood. On the other hand, we can use vinyl for custom print graphic signs for walls, doors, and glass.
Stand out with visitors when they walk in with that professional look.
Some of our Favorite Office Lobby Signs in Ventura
Typically, lobby signs contain information such as the company name, logo, tagline, and maybe contact details. But these signs are not about that. Lobby Signs display a company's character, how they showcase themselves and how serious they are about their business.
The Trade Desk
We chose Dimensional Letters for the interior lobby signs at The Trade Desk in Ventura. You can see these lobby signs in the two photos below. This lobby signage option is attractive and economical for business owners who want to showcase a top-notch sign on a modest budget.
Dimensional Letter Lobby Signs are also nicely complemented by spotlights, which ensure visibility no matter the time of day or night.
Concours Motors
If you're looking for unique and eye-catching lobby signs, consider a neon sign or an illuminated office lobby sign with a logo. Lighted Logo Signs like the one we made for Concours Motors in Ventura have an elevated look that is hard to beat. This sign uses energy-efficient LED lighting.
Office Lobby Signs in Santa Barbara
When choosing an office lobby sign for your business in Santa Barbara, the sky is the limit. There are many different types and styles of office lobby signs, so it's essential to find one that reflects the image you want to project.
Towbes Foundation
The Window Graphics we created for the Towbes Foundation in Santa Barbara above are a great example of how office lobby signs can promote a professional and sophisticated look.
Lobby signs like these are also an excellent way to take advantage of natural light and make your space more inviting.
The Towbes Group
The sapphire-colored logo and font of the Dimensional Letters used in the Towbes Group Office Sign are set off brilliantly against the white of the brick facade behind it. The sign is perfect for this Santa Barbara property management company and says a lot about the brand.
Office Lobby Signs in Los Angeles
Los Angeles is a city that's all about style, so it's no surprise that lobby signs here are often big and bold.
Ispire Ducore Lobby Signs
Colors have a relationship. For example, the one we've tempered the ones here for Ispire Ducore's lobby signage expressly shows this. The white and munsell yellow letters mounted in their waiting room warmly welcome visitors but don't blend into the brick-accented background.
The custom window graphics on the frosted glass doors at Ispire Ducore exudes a feeling of polish and professionalism.
Wanting a seasonal feel? Bold & tasteful feel? Authoritative? Many a business has relied on Dave's Signs to convey the unique impression they were going for in their office signs. Our team can make it happen for you.
Kal Krishnan Consulting Services Lobby Sign
The consulting business is all about making a statement that clients will want to hear. Meanwhile, we think this indoor office sign we created for Kal Krishnan Consulting Services (KKCS) does just that.
KKCS's office sign is simple yet effective. It also makes a bold statement. The cut abbreviation makes it impossible to miss. Likewise, the polished brass material helps the overall effect come together. The result? An office lobby sign that's unique and stylish.
FocalPoint Lobby Sign
For a more subtle, focused look for FocalPoint's lobby sign, we used Dimensional Lettering. Sometimes the impact of a lobby sign depends on the proper lighting. Here, spotlights from above shine down on the design. It helps give the letters and logo a floating effect. The result is surprisingly effective. It gives the office elegance and visual appeal.
PolyPeptide Clear Acrylic Lobby Sign
Digital Signage for Your Office Lobby
Office lobby signs are more than just a way to identify your business–they communicate who you are and what kind of company you have. Likewise, digital lobby signage gives your visitors and customers bold and clear messages. You can also put more information on a panel and communicate even more by providing changing LED panels and video walls.
Dave's Signs – Lobby Sign Experts
No matter what type of business you have or where you're located, we can help you design and build the perfect office lobby signs. Our signs are custom-made according to the specific needs of our clients. We take into account requirements, such as:
The type of business
The location
The clientele
The overall look and feel needed
We've worked with business communities of all types in cities across the country. Therefore, we're confident that we can match your business advertising needs with custom indoor signs.
Have Questions? Want a Quote?
Contact us for Custom Office Lobby Signs Design, Fabrication, Installation, and Repair.
Not all sign companies are the same. Dave's Signs has served businesses of all types in Ventura, Santa Barbara, Los Angeles, and Nationwide for over 20 years.
We offer a wide range of sign options for a business owner to choose from. Our team of experts can help you create the perfect signs for your needs.
From mom-and-pop offices to large corporate offices nationwide, we've done it all.
We can help you with coming up with an attractive logo design. Of course, we can also work within your existing brand guidelines.
You can see some of our past work by browsing through our online portfolio. If you have any questions or would like to get started on your own custom office lobby sign, please don't hesitate to call us at ‭(805) 641-1387. Also, you can request a free quote online. We're always happy to chat and answer any questions you may have.