Dave's Signs is your Thousand Oaks sign company. Why do we say that? That's because several of our most eye-catching signs are located in Thousand Oaks and other areas in Conejo Valley, CA.
And besides being nice to look at, our custom signs solve critical business challenges. For instance, they increase foot traffic and attract the attention of potential customers, bettering your bottom line.
For this city page, we thought we'd put together a collection of some of the best customs signs we've created and mounted in these specific areas. We'll also tell you a little bit about each type of signage and the specific services we did for them, along with information about the companies they represent.
Examples of Dave's Signs in the Thousand Oaks Area
These 8 examples below showcase some of the best signs we've designed and installed in the Thousand Oaks area.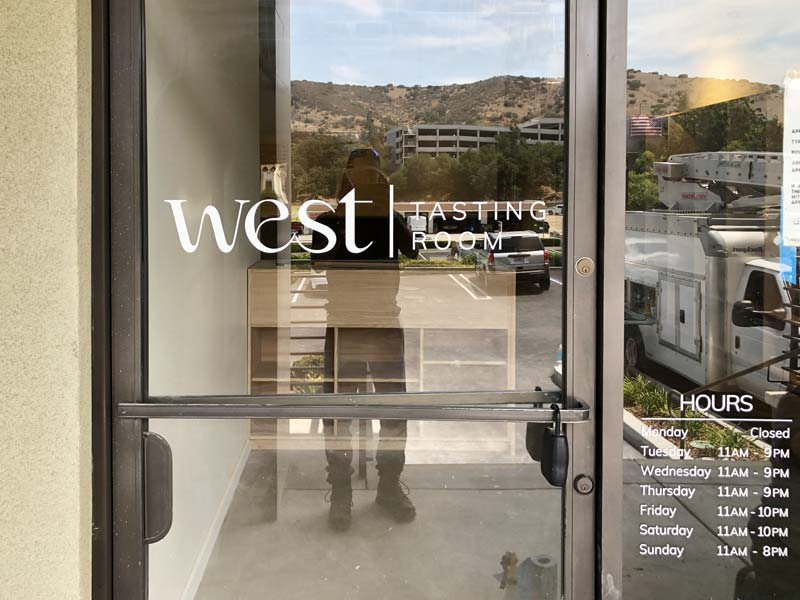 1. Clear Oaks Plaza – Thousand Oaks
We're going to kick off our city page with a Channel Letter Sign and Window Graphics we made for Clear Oaks Plaza in Thousand Oaks. The Channel Letter Sign was a particularly fun sign to design because it included all sorts of custom elements.
We took the logo Clear Oaks uses for their wines and created their Channel Letter Sign that uses that color scheme. The bottom banner is also made with channel letters that spelled out "Tasting Room." The Window Graphics on their front door have a similar function. But they also display important info like Clear Oaks' hours of operation.
2. Lifetech Resources – Moorpark
California-based company Lifetech Resources contacted us to help provide them with signage that is in line with their branding while also reflecting their cutting-edge technology.
To meet that request, we designed custom signs with window graphics for their business frontage and office windows. The sleek lines of the Lifetech logo are represented in the design. The last of the three photos is a Wayfinding Monument Sign we made for them that is impressive and eye-catching. These custom outdoor advertising signs in Thousand Oaks really turned out spectacularly!
3. Lal Mirch Indian Restaurant – Agoura Hills
Every so often, an apparently simple sign design for local mom and pop businesses can get a little complicated—nothing we can't handle, though. Take the custom Channel Letter Sign we did for Lal Mirch Indian Restaurant, for example.
There were a few complexities when we submitted their sign for approval, including adding a mansard to the sign design before the City of Thousand Oaks would approve it. We were able to create the mansard that the city required before installing the sign. Once completed, you can see the sign is really striking. The red channel letters combined with the stainless steel and yellow finishes on the sign make a striking contrast (as does delicious Indian food!).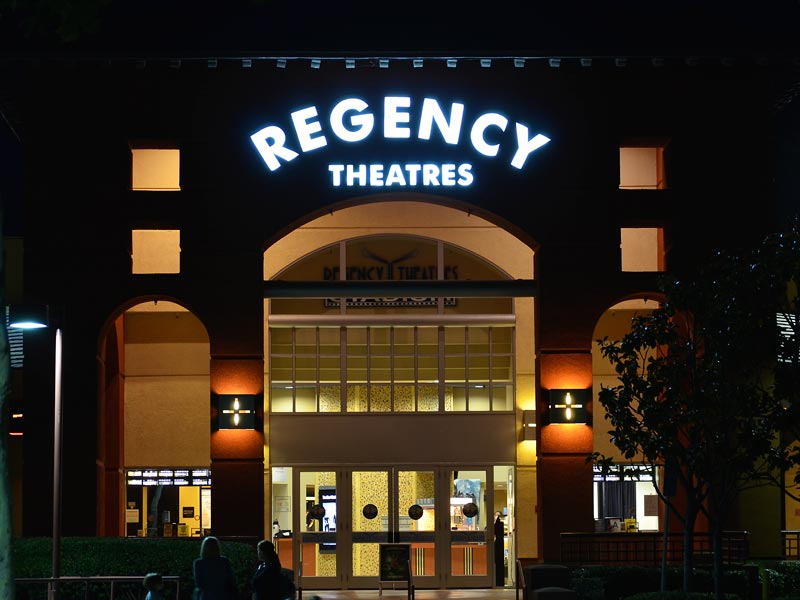 4. Regency Theatres – Agoura Hills
Dave's Signs also makes signs for large corporations. Regency Theatres has many locations in the Los Angeles area, and they have to choose the right local businesses to partner with since appearances are critical. We created this professional, eye-catching illuminated sign with Channel Letters for Regency Theatre at Stadium 8. Movie signs like this can pay dividends by amping up moviegoer attendance to the next level.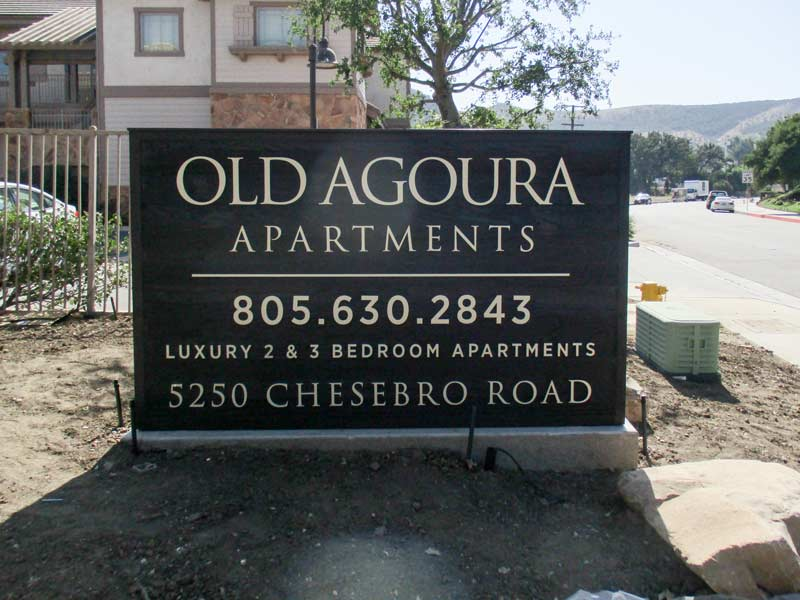 5. Old Agoura Apartments – Agoura Hills
Agoura Apartments didn't want just any sign to represent their community. We are proud of the Property Management Sign we created for Old Agoura Hills Luxury Apartments, with its business directory information displayed throughout. Notice the wood grain on the sign. This apartment sign is very effective and provides a professional appearance and a lasting impression on the reader.
6. Shops at Kanan Village – Agoura Hills
Below is a stylish and smooth Multitenant Monument Sign we created for the Shops at Kanan Village. They are a surprisingly cost-effective way to advertise shops and office parks and attract more tenants. The helping display on both sides directs consumers to things like "gourmet popcorn" and "Chinese cuisine" at this Agoura Hills shopping center.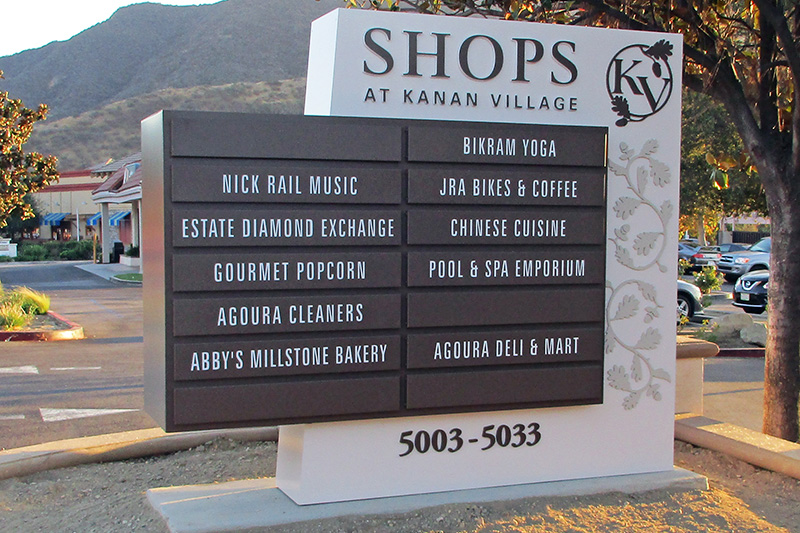 7. Corepower Yoga Outdoor & Indoor Signs – Westlake Village
Above are three signs we designed for the exterior and interior for Corepower Yoga in Westlake Village. All three are great examples of how we can take your logo and turn it into a dynamic sign for you. For example, the color palette used in the logo and design font for the Channel Letter Sign below matches their brand colors.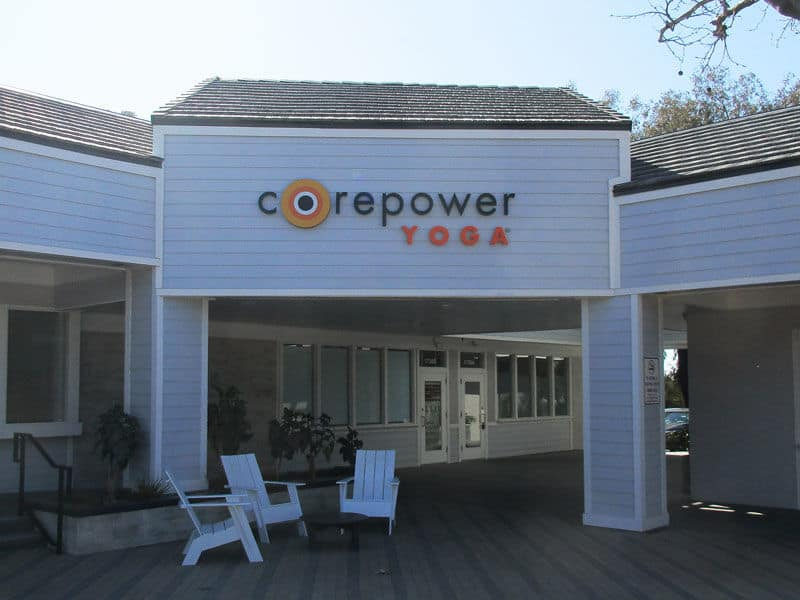 Having an Illuminated Storefront Sign will draw attention and give just about any business an advantage. We used an illuminated style in the image of Corepower's frontage below. The font and logo are illuminated in the exterior lightbox panel on the establishment's frontage. We created dark letters for the lightbox that is backlit, making them really pop at night.
The interior sign we made below really fits in with the groovy, Zen message of Corepower Yoga.
8. Golden Rock Realty Channel Letter Sign – Calabasas
The Channel Letter Sign we created for Golden Rock Realty in Calabasas is another example of how we can take your logo and turn it into a dynamic sign for you. For instance, the color palette used in the logo matches our installation's finish exactly. In addition, the font below the main channel letters has an elegant touch that gives the sign polish.
Dave's Signs is a Local and National Sign Company
Dave's Signs has been making beautiful signs for local and national sign accounts for over 20 years. That's why companies in California and the rest of the nation call on Dave's Signs for all their commercial signage needs.
We are a Full-Service Sign Company
Dave's Signs designs, fabricates and installs beautiful commercial signs locally in Thousand Oaks. As part of our sign manufacturing services, we'll prominently display your business name for all to see.
We have decades of experience working with Thousand Oaks-based businesses and have familiarity with their city requirements—we can meet any local ordinance. As part of our professional service, we acquire permits and build to any unique sign requirements our clients and the city require.
From massive neon signs atop tall hotel buildings to custom graphics in convenience stores, we can help you with your existing design or brand guidelines. In addition, we can even design something for you based on your design requirements.
No Sign Job is Too Big or Small
Lastly, we hope you can tell why Dave's Signs is your Thousand Oaks Sign Company. We can make all the visual media solutions for your company, no matter what size you need. We can make a wide variety of sign types and sizes that lists all your comprehensive business information and checks all of the boxes you expect from a professional sign company.
Dave's Signs: Your Conejo Valley Sign Company
Don't waster time looking for the "best sign service near me." Dave's Signs has you covered. From neon signs to custom window graphics, from channel letters to lightboxes—our sign shop can create any type of commercial signage you need. That's why when you want your commercial or residential sign to truly reflect the unique personality of your brand, give Dave's Signs a call at (805) 641-1387. Alternatively, you can use our online form to get a free and fair price quote or have us answer any questions you have.